January 23, 2018
I got a later start on Tuesday.  Maybe it was my subconscious desire to have it warm up a bit by the time I hit the park.  Didn't work, as it bottomed out at 9 degrees at one point during the morning.
It was a gorgeous day.  The sun was fighting off lingering clouds and bathed Hellroaring in golden light as I drove through.  Unfortunately, I didn't find an inspiring composition, so I had to resort to taking mental pictures.
Nearly all of Monday's coyotes had disappeared.  Ravens remained on the Elk Creek carcass, but the only mammal present was the deceased.  I didn't make any stops until I'd nearly completed the drive through Little America, where a small herd of rimlit bison huddled together.  I stopped to snap a few pictures, and then they started moving toward the road.
I continued the traditional drive east.  No action on the Lamar Canyon carcass… with all the activity there already it's likely picked pretty clean.  I did finally see a lone coyote out on the floor of the valley, though it was too far for pictures.  The usual bighorn and moose sightings occurred between the eastern Lamar and Pebble Creek, but no photo ops presented themselves.
I eventually ended up back at Roosevelt, where the inevitable raven photo session took place.  A Yellowstone visit wouldn't be complete without me photographing these charismatic birds at least once.
In general, it was a quiet morning, but I like these cold, sunny days.  At one point I bundled up and went for a short trudge through the snow in Little America.  Not an animal was in sight, and without snowshoes I was forced to keep to the old trails left by bison and even coyotes, which made the walk easier.  Tiny mouse tracks led between the sage peeking out through the snow.  I hoped to see some sign of ermine, but there were none of the telltale "bone-shaped" tracks to be found.
Rather than stay out the rest of the day, I had planned an early drive back west.  On the way, I pulled over at Lava Creek after spying the resident dipper on the edge of the ice.  Lying on my belly in the snow, I was able to capture a few shots of this little diver in action.
The reason I left the park early was to check out the Boundary Road.  I needed to see if there was any other ungulate activity (it's usually the main pronghorn hangout in winter, and bighorns have been prevalent in years past), but also to see if there was much carnage from the ongoing hunt outside the park boundary… in case I chose to bring clients this way later this week.
Not much in the way of hunting, but pronghorn were scattered everywhere starting from the Arch.  As I drove the road I spied more pronghorns, a few mule deer, a distant Bald eagle and a Rough-legged hawk that was busy hunting.  As I started to near Corwin Springs, I finally found the bighorn sheep.
It was a nice way to end a beautiful day.  There's one more day of solo exploration on the calendar before I begin tour activities.
January 24, 2018
I was proud of myself for actually waking up on time and getting out the door at the desired time (earlier than Tuesday, at least).  That pride and sense of accomplishment was short-lived.  First, my contact lens popped out on the winding drive up through China Garden.  After driving half blind to the next pullout (a half-mile down the road) and replacing it I was back on the road, a little behind schedule.  And then I ran into a road grading crew on the narrow drive up toward Undine Falls.  Okay, so they let me by pretty quickly, and all was well.  But then I hit the morning bison commute between Undine and Blacktail Plateau.  All that excitement about an earlier start had surely evaporated by then.
I joined a line of about eight vehicles.  Directly in front of me was a ranger, and he soon turned on his lights and leapt forward.  Surely, like all other rangers and park employees I've seen, this one would get to the head of the line to show any timid drivers how to navigate a bison jam.
Oddly, after a minute or so we still weren't picking up the pace.  Most of the bison were cooperating, actually, sticking to the opposite side of the road.  But a few younger, less experienced stragglers kept jumping out in front of our line.  Instead of weaving by them, the ranger held back, occasionally veering to "scoop" a stray bison back toward the herd with his truck.  Yes, he was basically the pooper scooper, retrieving little brown furballs that were left out in the middle of the road.
Finally, the ranger moved forward and worked past all the bison.  He zoomed ahead, pulled over and jumped out of his vehicle as the rest of us started to drive through.  When I went by he was frantically waving his bright orange vest at the oncoming bison.  Not really in an inviting, taunting manner like a matador with his cape.  More like an excitable Larry Bird (right down to the mustache… no short shorts though, thank God).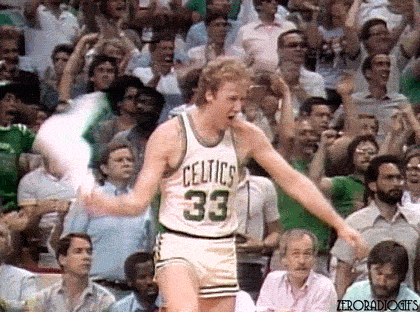 Our line of vehicles proceeded slowly.  Since I'm always on the lookout for subjects, I pulled over and let those behind me pass.  The person at the front of the line didn't pick up on the hint, and chugged along at 25mph, forcing everyone to drive around.  I stayed back.
It didn't matter, as I wasn't seeing much.  A few elk here, a raven flying overhead.  It was sort of a bland morning (a far cry from Tuesday's blazing glory), though more comfortable with temps in the high twenties.  A few of the coyotes from two days prior reappeared.  A trio walked across the distant flats in Little America, and another pair trotted above the road in the Lamar Canyon, presumably leaving the cougar kill that was well picked-over by this point.
I proceeded all the way to Round Prairie (a few distant or hidden moose again), and then chose to drive all the way to Silver Gate again.  It's a change of pace, and though the dense trees of the northeast corner make spotting more difficult, there's always potential for something unique up there.  Different owls, mustelids, foxes… even cats are possible on the drive from Pebble Creek to Silver Gate.
Just not on this morning.  The sun shone through at times, making it a more pleasant drive.  But nobody came out to play.  It was the same story all the way back into the park.  By the time I'd finished another run through the Lamar and Little America, I decided to go for a hike after lunch.  There had been talk of a cross fox seen in the Elk Creek/Petrified Tree area, and then I was told about another red fox sighting there earlier in the day.  So a jaunt up the Petrified drive sounded like a good option, and a nice way to take advantage of what were mid-thirty-degree temps by then.
When I parked near the Petrified Drive, I was joined by friends and former clients Linda and Reggie, who were also looking for an excuse to hike.  We proceeded toward the drive, and then Linda suggested walking the Blacktail Road instead.  Why not?  It's something I've never done in winter.  So we wound our way up the end of that road.  We were high enough to be well above the road, with a good view of the Elk Creek drainage across the way when I spied movement.
It was far away, but it was definitely the rumored cross fox.  And if you've been paying attention, yes, this basically was the first thing I photographed all day.
We watched the fox as it disappeared into the short pines to the north.  We'd hoped it would stick to the open so we could track its progress and maybe get a closer view, but it wasn't accommodating.  Nonetheless, we hauled ourselves through the snow down to the road, crossed, and trudged back up on the other side.
I did my best to follow some old bison tracks to make the slog easier.  "He could've taken shorter steps," I thought to myself between breaths.
"Hey Max, you could've taken shorter steps," Linda muttered behind me.
We definitely got our exercise during the ordeal, but the fox never did reappear for us.  Still, that's definitely the most unique sighting of the trip so far, and it gives me some hope that we might encounter it again during my tours.
One final drive through Little America and the Lamar Canyon was as fruitful as the rest of the day's exploration, so I turned for home.  It's time to pack and prep a bit for the start of my first tour.  Thursday is pick-up and orientation day, and then the action resumes on Friday.