June 8, 2020
I knew Monday would only be a half day. There was a lot of work to catch up on back at the cabin, so I hoped we could make the most of our limited time.
Apparently it was a day off from the park for everyone else though. The Lamar Valley and points beyond were remarkably devoid of traffic. I was wondering if we either were missing a major sighting (read the Five Stages of Paranoia When Nobody Passes You on Your Drive Into the Park), or if a tree had fallen across the road during Sunday's storms and blocked eastward traffic. The one exception was Slough Creek, where maybe 80% of the northeast's vehicles were congregated as people watched wolves from a distance.
Our own morning started with a landscape. It was largely overcast and cloudy, as expected, but a spot of gold appeared on Barronette Peak as we drove past. If this mountain has a beating heart, I think we just saw proof.
As mentioned, everything was quiet in the Lamar, and we didn't venture far down the Slough Creek road. In Little America, we stopped for a long shot: a perched magpie. I've found them to be so skittish over the years that when this particular bird stayed to let my dad photograph it out of the car window, I was surprised. When it stuck around as we parked, stepped out, and walked over for a few quick photos, I was stunned.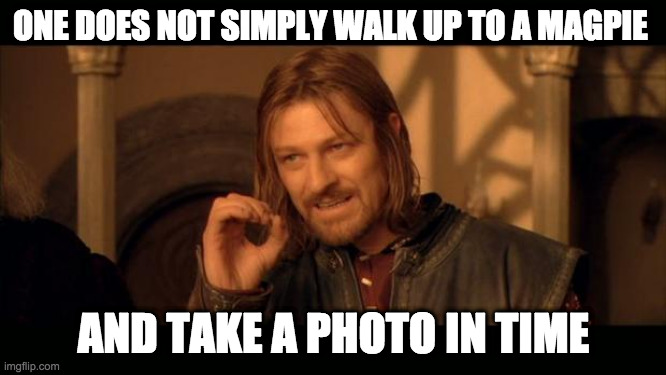 Of course, it did soon fly away, but it still goes down as one of my better magpie moments simply because someone temporarily Scotch-taped it to the sagebrush.
The birds would get better. I know, I talk about birds a lot in these reports, but guess what? If you can't appreciate the small stuff and the things without teeth and fur and claws, there's a very good chance you'll get bored or frustrated during these stretches (unless you really like shooting bison and elk). Folks come here in spring for The Bears, and The Babies, and The Wolf Viewing, but that's not what makes Yellowstone special at this time of year. It's The Everything. You have to soak in the sheer diversity and variety on display to understand why this place stands above all others on this continent.
So it was pretty exciting when a Mountain Bluebird and a Western Tanager stopped by the side of the road quite close to each other. My father was able to shoot out the window before they flew off. I missed out, but instead of driving on I decided to turn around and take one more look. They hadn't gone far. Would they, like the magpie, stay for us if we got out of the car?
They did, as it turns out, intent on catching bugs in the brush (the bluebird was especially adept at nabbing caterpillars). And it turned out there were several tanagers hopping around in the sage, some quite close. The resulting photos weren't stellar, but it's certainly the most cooperative behavior I've witnessed from this species… no feeders necessary!
And if you thought I was done with my tiny feathered friends, I finally took time to photograph that Brewer's Blackbird that had been winking at me from the side of the road in the Lamar for the last several days.
We both felt it was time for a hike, and unlike Sunday, we followed through on our idea of returning to Trout Lake. We were the only ones around. Monday was much colder than previous days. The wind was biting and a chill was in the air, so hiking probably wasn't on many people's minds. I like having the place to myself though. Up at the lake we started to get intermittent snow flakes. Everything was quite peaceful. On the far side we revisited one of the Canada Goose families we saw last time. It seemed like the eagle had been busy picking off goslings. The adult pair with two babies had disappeared. The other pair was down to five. They settled in for a short nap as we arrived.
When they eventually perked up, my dad did a nice job of capturing the family on the move.
We next ventured over to Buck Lake. No otters (our main goal, of course) or new signs. We took time to circumnavigate the lake. It was so peaceful. Less windy than Trout, and the falling snow was a nice touch. Of course, someone may point to this photo a Exhibit A that it was a "slow morning," perhaps even accusing me of stooping to a new low.
Yeah, I shot a flower picture (named Purple-fringe, apparently), and later, I shot photos of some otter scat we found back at Trout Lake. First small birds, now this. How could we achieve balance to the morning? According to the official Yellowstone Scale of Photographic Satisfaction, it might be difficult.
We had time for one more drive to the west before returning home for the day. I opted to head through Little America before returning to check Slough Creek one more time. It may have worked out better prioritizing the latter first. It turned out a wolf had walked right by everyone, to the point where the Wolf Project was preparing to haze it off. We arrived in time to get a decent look and snap a few photos before it walked up the hill and disappeared.
So it appears we may have balanced the scales after all.
On the way home, we saw a moose at Round Prairie (our second, to go with a regular we saw at Warm Creek again in the morning), and back in Silver Gate we spied one more moose along Soda Butte Creek. Later in the evening, as a heavy snow was falling, I spied a pair of Harlequins in the creek on our property. I eventually trekked out to get a closer look and shoot a little video. The snow abated briefly, a dipper flew by, and I accidentally spooked some sandpipers, but the ducks stayed in sight.
Overall, a pretty good "half day."
June 9, 2020
Since we weren't in the mood for an insane start time, we stuck to the northern range on Tuesday. It was a shockingly nice morning. Not too many clouds and eventually some lovely golden light.
A herd of bison waded through the waters of the Confluence in the eastern Lamar. You can discern the good, experienced mothers from the rookies. Some cows would swim or wade on the upstream side of the river, making it easier for their calves to move along without the full brunt of the current battering them. Other cows just plowed ahead and left their calves to fend for themselves. We saw at least one calf get swept downriver a short ways before recovering.
This calf was undoubtedly happy to reach dry ground again.
Slough Creek was quiet, but wolf watchers were out in force, as usual.
When the light finally hit the northern range, it was blazing. We just had to find a subject. Thankfully, a cinnamon black bear appeared in Little America. Whenever I see a cinnamon bear in this area, I wonder if it's one of the twin cubs that put on such a special show for me in the spring of 2015. This bear looked about the right age.
We made a couple passes between Roosevelt and the Lamar (the only notable sighting was an out-of-place pelican on the banks of the Lamar River), but ultimately decided to venture farther west. It was still mid-morning, so maybe we'd get some decent light on the Mammoth owl nest… As it turned out, the light wasn't great. Already a bit harsh on the single owlet high up in the nest tree, while an adult perched in the shade underneath. I did manage to track down the other adult owl, perched lower in a different tree, but even this one was highlighted by a stripe of sunlight bisecting its body.
It was my dad's first look at Great Horned Owls. It wouldn't be the only First we checked off his list today. We decided to head back to Silver Gate for lunch and a break (a nap sounded nice). On the way through Little America, perhaps the most impressive bison I've seen on this trip marched through the sage. I believe he qualifies for Absolute Unit status.
Clouds had been rolling in later in the morning, so the afternoon was back to the same overcast and rainy mixed bag we've been experiencing. Since neither of us napped and we were already aiming for a southern excursion tomorrow, we knew this would be a quick jaunt. Perhaps one drive west and back to find something interesting. It turns out we only needed to get as far as Slough Creek. Finally, we got a badger. Another species my father had not seen.
It was quite cooperative, giving us a good twenty minutes (after we had shown up late to the sighting). Eventually we were joined by friends who reported another badger near Roosevelt. At last, some mustelid action, and a nice way to finish off the day.
On our way home we saw that Barronette fox again, but didn't stop this time. Perhaps we'll get another chance at it before the trip ends.